Self-care means taking an intentional action to maintain and improve your physical, mental, and emotional health and well-being. Acts of self-care are not always easy, but they help you to actively take care of yourself in ways that promote good health and reduce stress.
On occasion, we mistake self-indulgence for self-care, where we do things that feel good as opposed to doing things that are good for us.
Self-care can include some feel-good activities as long as their purpose is to help you improve the quality of your life.
Here are six categories of winter self-care that include both, the things that are good for you (even though you may not feel like doing them) and those that feel good and at the same time contribute to your overall well-being.
Organize and Beautify Your Life
Organizing your life or home is a fundamental act of self-care. Having a clean and clear mind and space around you will reduce stress and improve your overall well-being. By taking the time to declutter, organize, and simplify your home and life, you can create a more peaceful and calming environment that promotes relaxation, creativity, and productivity. Here are a few things you can do to improve your surrounding and your well-being:
Go through your closet and remove 10 items that you no longer wear to make space for some new ones.
Organize and declutter your bookshelf and put the books in your car to donate the next time you are near a used book bookstore or a second hand store.
Put your finances in order by going over your income, spending, saving and debt, and create some realistic financial goals.
Tidy up your main living area and organize the big items in that space, such as throw pillows, blankets, books, or board games.
Clean out your medicine cabinet. Pack up all the expired medications to bring to your local pharmacy for disposal later on.
Organize your 'junk drawer'.
Go through your bathroom drawers and throw out all the expired beauty products that have been hiding there for years.
Grab a box and remove all the unnecessary items that don't bring you joy from your bedroom. Put the box in the basement or a closet. If you don't go back to it for a month, either repurpose or donate the items in the box.
Purge your lingerie / undergarments. Get rid of all the worn out pieces with holes and rips or even those you don't wear anymore.
Organize your desk and clean out your drawers. Get rid of all the writing tools, notepads, and other stationary that you're not using, but are just cluttering your drawers.
Beautify a corner of your home by reorganizing and accessorizing it with items you already have.
Create a cozy reading nook by adding soft blankets, pillows, and a warm throw to your favorite chair or a corner of your room.
Stimulate Your Mind
Stimulating your mind is a great way to practice winter self-care. It helps to improve your cognitive function, boost mental health, and promote a sense of wellness. Engaging in pleasant activities that challenge your mind improves your mental and emotional health and enhances your overall sense of well-being. So try some of these ideas to practice self-care by engaging your mind:
Create a vision board to help visualize your goals and dreams for the upcoming year.
Create a winter bucket list of things you want to do, such as trying new recipes, exploring new neighborhoods, or taking a winter hike.
Take a class or workshop to learn something new and expand your horizons.
Try a new winter hobby, such as knitting, painting, or learning a new language, to challenge yourself and have some fun.
Take a few moments to practice gratitude and positive affirmations.
Write a letter to yourself or someone you love, expressing gratitude and appreciation for all the good things in your life.
Listen to your favorite music or a podcast to relax and unwind.
Practice mindful eating by taking the time to savor and appreciate each bite of your meal.
Write in a gratitude journal to help shift your focus to the positive things in your life.
Think of new habits that you'd like to acquire and make a plan on how to incorporate them into your everyday life.
Set up a light therapy lamp on your desk and use it every day to help you avoid the winter blues.
Enjoy a Body Break
Lack of sunlight and cold weather during the winter can make you feel lethargic and depressed. Moving your body during those cold months is an important aspect of self-care. A short body break can improve your mood, boost your energy levels, enhance your immune system, and reduce stiffness and pain. Incorporating movement into your daily routine can help you stay healthy, feel better, and enjoy the season to the fullest. Trying out a few of the below-mentioned suggestions, may help you enjoy those long, cold, winter months.
Try a new winter sport, such as snowshoeing or ice skating, to get outside and enjoy the winter season.
Take a few minutes to stretch and move your body, even if it's just a few simple yoga poses or stretches.
Spend some time in nature, such as taking a walk in the park or visiting a botanical garden.
Do a mini workout. 30-minute Pilates or a HIIT session can do you wonders.
Take a power nap to recharge and boost your energy levels.
Lay down on your bed and do a body scan.
Put on your favourite, upbeat music and dance like no one is watching. 
Go for a power walk around the block. This is especially beneficial during lunch break on a crisp but sunny day.
Take Care of Your Body
During the winter season, prioritizing self-care practices that soothe your tired muscles, promote relaxation, and nourish your skin can make a significant difference to your overall well-being.
Many of the winter self-care practices listed below will help you feel refreshed, rejuvenated, and ready to tackle the challenges of the winter season.
Take a hot shower or bath to soothe tired muscles and promote relaxation.
Detox in an infrared sauna at your local recreation center or gym. You can also purchase a portable one and use it at home
Take a mini DIY home spa day by doing a face mask, hair mask, and body scrub to pamper yourself from head to toe.
Make your own DIY body scrub with ingredients like sugar, honey, and coconut oil to exfoliate and nourish your skin.
Give yourself a quick aromatherapy massage with a soothing essential oil blend.
Use a facial steamer to open up your pores and promote healthy, glowing skin.
Give yourself a quick scalp scrub or scalp massage to promote healthy hair and relieve stress.
Try a quick and easy DIY face massage with a jade roller or gua sha tool to improve circulation and promote relaxation.
Use a foam roller to release tension in your muscles and improve flexibility.
Take a relaxing bath with Epsom salt to soothe sore muscles and promote relaxation.
Treat yourself to a DIY manicure or pedicure.
Give yourself a quick hand and foot massage with a nourishing lotion or oil.
Apply a moisturizing face mask to hydrate and soothe dry winter skin.
Put on a pair of your favorite moisturizing socks to give your feet a break.
Keep it Social
Winter cold tends to drain our energy and make us feel more sluggish. Reduced daylight and cold temperatures affect both physical and mental health. That's why socializing during winter is an important part of winter self-care. Hanging out with your friends helps reduce feelings of isolation and loneliness, boost mood, and provide opportunities for relaxation and fun activities. It also provides social support, reduces stress, and encourages healthy habits. Here are a few fun ideas that you may want to try out this winter:
Pick up a friend and spend an afternoon food truck hoping through your town. Bring the food home and enjoy!
Host a virtual game night or movie marathon with friends and family to stay connected and have some fun.
Have a warm cup of tea and spend some time chatting with a friend or loved one in person or via video chat.
Volunteer at a local charitable organization that's important to you to help make a difference in your community.
Bake some cookies and deliver them to an elderly person in your life. I bet both of you will have a lovely time.
Have a potluck dinner with a few friends. Use disposable table cloth, plates and cutlery to reduce the amount of clean up you'll need to do afterwards.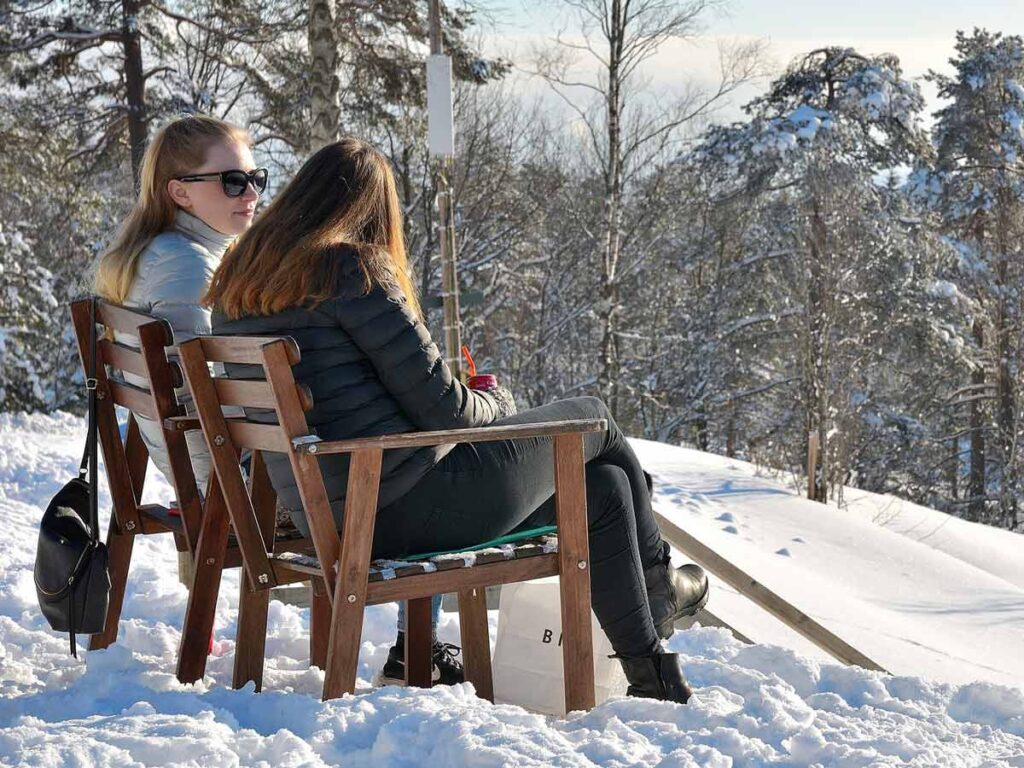 Relax and Enjoy
It's great to keep busy, but sometimes winter self-care also means just relaxing and enjoying the moment. By taking time to simply do nothing, you give yourself the space you need to unwind and de-stress. This can help improve your overall well-being, reduce anxiety and depression, and increase our ability to cope with the challenges of the winter season. Enjoy these few suggestions of how to spend your downtime, and to re-energize yourself to tackle the winter season with a positive mindset.
Make your own homemade hot chocolate or mulled cider and savor on a chilly winter evening.
Light some candles or use a diffuser with essential oils to create a cozy and calming atmosphere.
Position a comfortable chair in front of your south facing window on a sunny day and sunbathe in the comfort of your own home.
Take a relaxing candle-lit bath with bath salts or bubbles to unwind and de-stress.
Try a quick guided meditation or visualization exercise to reduce stress and promote relaxation.
Take a break from technology and spend some time reading a book or magazine.
Do nothing. Literally. Just sit in your favorite spot, close your eyes and enjoy the moment.
Spend some time coloring an adult coloring page or doing a puzzle to reduce stress and improve focus.
Go to a coffee shop, grab your favorite drink and enjoy people-watching. You'd be surprised what you can observe.
Grab your favorite hot drink and go for a drive.
Winter, especially in the northern areas, is a challenging time for many people. Prioritizing self-care is an important way to support your well-being during this season.
Long winter evenings are a perfect time to clean up our lives, finances and our spaces. The ideas mentioned above will help you create a comfortable and cozy living space to relax during the winter season.
On the other hand, taking care of your physical health, moving your body and practicing good skincare habits goes a long way during this cold season. Winter self-care also means engaging your mind and trying new things you may enjoy. Therefore, consider prioritizing relaxation and downtime to reduce stress and improve our mental health.
Socializing with friends and loved ones is yet another effective way to boost your mood and to alleviate feelings of loneliness or isolation.
Finally, incorporating these and other winter self-care practices into your winter routine will support your overall well-being and improve your ability to cope with the challenges of the winter season.