I'm sure you have heard of vision boards. Many experts, celebrities, and psychologists truly believe in their value. As parents, we want to teach our children to dream big and to set goals to achieve those dreams. A vision board for kids is a great way to get them on their way.
The best way to do so, is to start small. In order for our kids to stay positive and motivated to accomplish their goals, they need to feel safe, happy, and at ease.
The Two Components of the Vision Board for Kids
This simple vision board for kids will allow your child to focus on all of the feelings mentioned above.
In order for this vision board for kids to be meaningful and effective, the work that goes into creating it has been divided into two parts:
Part 1 – Completing goal related questions or My Vision Worksheet
Part 2 – Creating the Vision Board for Kids
My Vision Worksheet
Before making the vision board for kids, ask your child to answer the following questions or print and fill out this worksheet (You can download your free PDF copy here)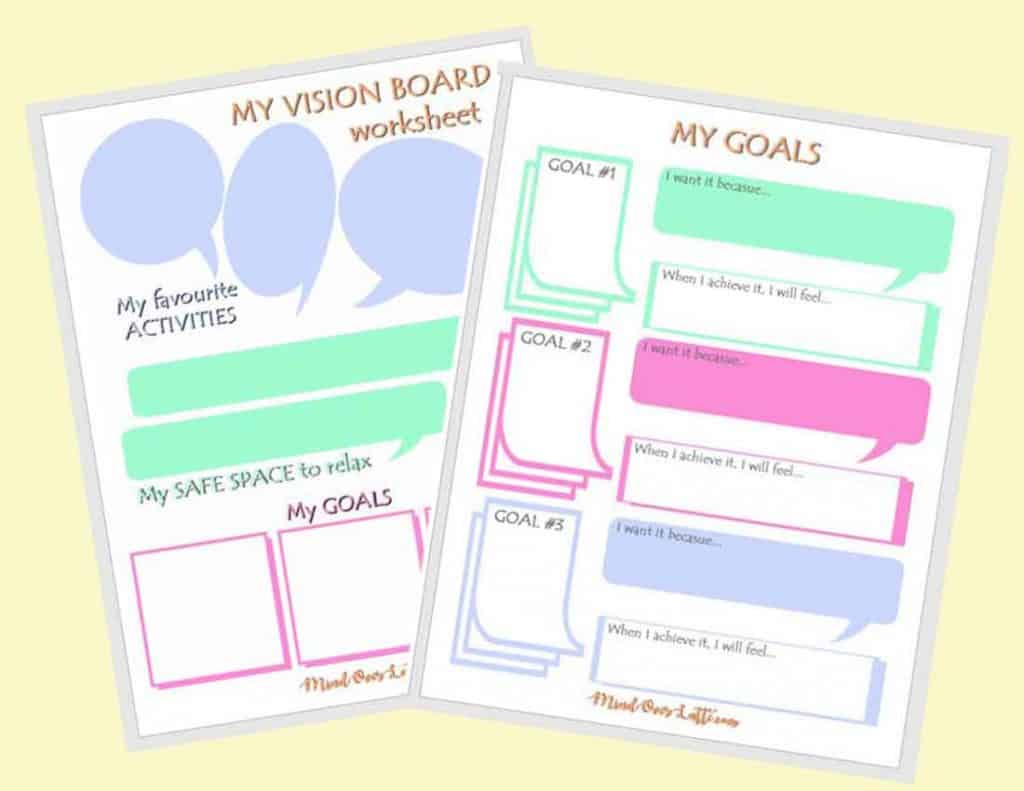 1. Name three activities that you enjoy doing. Explain what is it that you love about each activity. How does doing each activity make you feel?
2. Name and describe in detail two places where you feel safe, happy, calm, and relaxed. What is it about each of those places that makes you feel that way? Explain.
3. Find a quote on the Internet that inspires you. Copy the quote down, and explain what about that quote resonates with you.
4. Write down three goals that you would like to accomplish this year. Explain why you would like to accomplish each one of those goals and how it will make you feel when you accomplish it.
When completing the questions, pay more attention to the reasons 'why' than the actual activity, place or goal. Those reasons generally indicate what matters to our children and what motivates them to do well and to achieve their goals.

Creating the Vision Board for Kids
Once the child has completed the worksheet it's time for the fun part – creating this simple vision board for kids.
It certainly is fun to cut out pictures from magazines and arrange them into a colourful collage. But what if you have a hard time finding pictures that clearly represent your goals and dreams? That's why technology can be a very effective tool for this task.
In order to create this digital vision board for kids, all you need is a word processing or picture collage making software or app and access to the Internet.
Once you have chosen the software or the app you'd like to use, open a new document and divide the "page" into a 3×3 grid, just like a tic-tac-toe.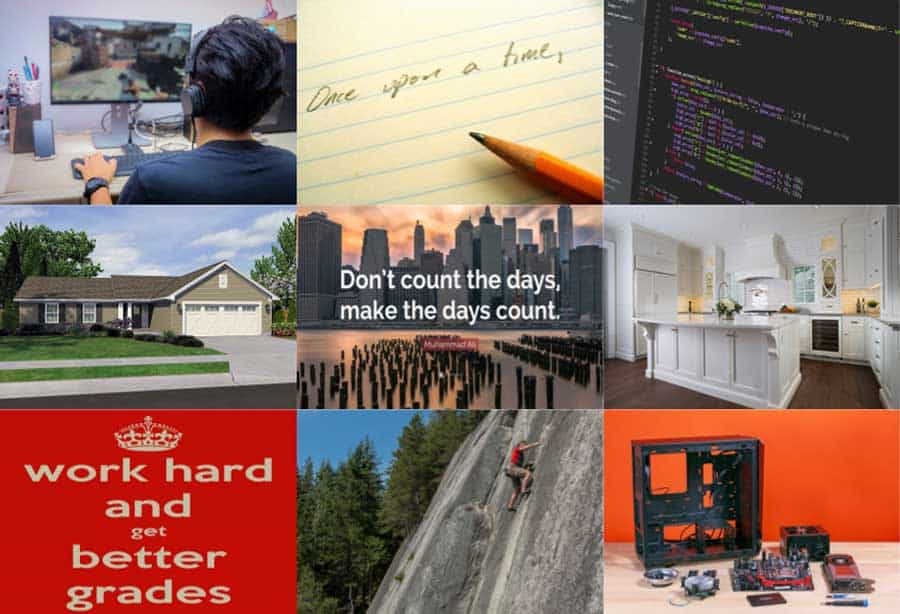 Now go on the Internet and find pictures that represent the activities, places and goals you have described in the worksheet.
There are many websites that offer free and legal image downloads. If you are using a picture found through a search engine, be sure that you are able to use it for the purpose of your vision board.
You'll need pictures to represent the following:
3 activities that you enjoy doing;
2 places where you feel safe, relaxed and happy;
1 image of the quote that resonates with you;
3 pictures that represent goals mentioned on the worksheet;
Organize your pictures within the tic-tac-toe grid as shown below.
Once all of the pictures are organized it is time to save your project.
How to Use Your Vision Board
From here, there are a few different things you can do in order to keep your goals in front of your eyes, literally, most of the time. You can:
print it and pin it to a cork board above your child's desk, so that he/ she can see it each time he / she sits down to do some work
print it and post it on the fridge or the family message board where it can be seen often
print is and put it as a cover page of your child's binder, so that each time he / she opens it, they will see it
save it as a screen saver on your child's computer
set it as a background on your child's computer, tablet or phone
Keeping this vision board for kids in a visible and easily accessible place will help your child to first, go to their 'happy place' when they see it, and then, remind them of the goals they set for themselves. The feelings of good time and pleasure elicited by the first two rows of pictures will motivate and inspire your child to put more time and effort into accomplishing the goals they set for themselves and represented visually in the bottom row.
Have you tried it yet?
I'd love to hear about your experience. Have you or your child made a vision aboard before? Did you enjoy it? Did it help you focus on what matters and inspired you to accomplish your goals faster?