Holiday season is a perfect time to curl up by the fireplace with a hot chocolate in one hand and a good book in another. And let's face it, no matter if you're a young adult or an empty-nested mom of five, we all love a good romance once in a while. So look no further. No matter if you're into sweet and feel-good or hot and steamy romance, I've got you covered! Here are 12 FREE Christmas romance novels that you can download onto your Kindle today. If you prefer a paper copy, they are all also available on Amazon.
Isaac MacAllister's life revolves around building his business and doing his best to give his daughter Sara a strong sense of family. Over the years he's had to learn how to keep their little family together on his own, but this Christmas Isaac is going to have some unexpected help.
Christmas blogger Jenna Murphy has one goal for the holidays this year: to get far away from anything to do with Christmas. Her website sale is done, and after 1,825 posts about the big C, it's one "season" she never wants to celebrate again. She's ready to start a new life, and the Big River Lodge seems like the perfect place for her to figure out the details. The lodge is isolated, she has her own private cabin, and no one in her family will know where she is. Read more…
Darryl is on a quest for peace. His chance at fatherhood was taken from him long ago, and an IED in Iraq ensured he'd never get another. In Big Falls, the McIntyre brothers hire him to keep an eye on their beautiful cousin Sophie in case her criminal ex shows up. He doesn't expect to fall head over heels.
Sophie McIntyre's life was blown apart by a drug dealing ex who cost her her job and nearly her medical license. She comes to Big Falls because she has nowhere else to go. And the minute she gets there, things start to get better. Read more…
With Christmas only three days away, Carol Claus agrees to her father's request that she leave the North Pole on a mission to help save Christmas. Joining single father Ben Hanson and his children for the holidays seems an easy enough task until Santa informs her that Ben is the man behind the disturbing new book 'Beyond Bah Humbug: Why Lying to Your Children about Santa Claus is a Bad Idea'.
Posing as Miss Kane, the children's new nanny, Carol pulls out all the stops to show Ben how fun Christmas can be, all the while struggling to understand how one man could hate the holidays so much. How could she, Santa's only daughter, be so attracted to a man who refuses to believe her father exists? Read more…
Certain individuals might consider Lady Amelia Pembroke a managing sort of female, but truly, most people would be lost without her help. Why, the latest on-dit is that rakish Viscount Sheffield is canceling the fete of the year because he hasn't time for silly soirees. He doesn't need time—he needs her!
When a flash of lightning destroys the venue for his family's annual Christmas ball, Lord Benedict Sheffield intends to enjoy a relaxing holiday for once. But after twelve days of beguiling Lady Amelia's guerrilla tactics, he's up to his cravat with tinsel… and tumbling head over heels in love. Read more…
After a rough year involving a serious car accident, painful recovery and broken engagement, Dakota Moore moves to Cherry Lake to rebuild her life. To embrace her new community, she volunteers to coordinate the annual Christmas tree gala.
Adam Clements has come home to help his mother run the family business while his father recovers from a heart attack. For the last decade, he's been a high-flying soccer player, enjoying the life that comes with his popularity. But something is missing and he can't put his finger on it… until he returns to Cherry Lake and remembers the feeling of home. Read more…
Single mother Kelly Kennedy can't afford lavish gifts for her four-year-old daughter, Bree. Homeless veteran Tyler Manning doesn't believe he deserves a Merry Christmas.
When Bree asks Santa for a father and picks Tyler, both Tyler and Kelly vow to keep Bree from being hurt while fighting their feelings for each other.
Tyler struggles with frightening flashbacks that scare Kelly. Meanwhile, Kelly's criminal past threatens her chance for happiness. Tyler and Kelly must believe in the power of love to give Bree her best Christmas ever. Read more…
Colin Murphy Is the CEO of Murphy Inc and is a workaholic. Christmas, or any holiday in face, doesn't mean much to him. When his business trip travel plans get interrupted by a freak snowstorm, he's forced to find a way home by other means.
Abigail Thompson can't wait for this year to be over. After losing her job, her boyfriend and apartment, she's ready to go home for a much-needed break and to regroup. But when her plane is grounded because of a snow storm, she has to find another way. She makes her way to the car rentals only to find the last car has just been given to a tall dark sexy man. Definitely not Santa, his name is Colin Murphy. When Colin finds out they're head in the same direction, he offers her a lift. It's nearly Christmas afterall. Read more…
Caleb didn't know that one night of bliss last spring with small town beauty Maya Brand had resulted in a pregnancy, until the blackmail attempt arrived on his desk in an unmarked envelope, complete with photos of Maya with a belly out to there.
When he learns the truth, Caleb rushes back to Big Falls, determined to make it right despite what the scandal will do to his high profile career–the family legacy he had never truly wanted.
All he wants is Maya, and their child. Read more…
Melody Murphy shared her love of music with her father, but after tragically loosing him on Christmas Eve two years ago, she no longer has any interest in music or Christmas. She returns to her hometown of Charles Town, West Virginia, to help her mother save the family antique business, content to stay focused on her work. However, when a chance encounter with an adorable five-year-old leads her to befriend an attractive single dad, Melody begins to realize she's been putting her life on hold, something her father would've never wished for her. Will she learn to hear the song in the falling snow again? Read more…
Cowboy firefighter, Cole Hatcher, is determined to do what's right and take his fiancé with him to his mother's annual holiday dinner party. After all, the two most important ladies in his life need to learn to get along and the sooner the better. Besides, the rest of the family will be there.
Lacey Winters can't forgive her future mother-in-law for keeping them apart for eight years. While she loves Cole's family, including the five they are living with, "Racy Lacey" wants to spend Christmas alone with Cole, preferably in her sexy Christmas present for him. Read more…
The magic of Christmas has been lost to Jacob Winston. At the suggestion of his ill sister, Jacob takes a job as a Secret Santa at the mall, hoping to restore his Christmas spirit. Even that doesn't seem to work, until a special little boy ambles up to make a very special wish…
Cheyenne Jensen is struggling to raise her two kids without the help of her ex-husband who refuses to acknowledge his daughter's existence and doesn't provide for the son he does. This Christmas is shaping up to be as heartbreaking as the last, until her son Ben's kind actions lead a stranger to them.
Ah, but it's Christmas time and the magic has begun.
When Jacob and Cheyenne meet, neither can deny their immediate attraction to one another. Read more…
Being the new girl in town is hard, especially when you're running from your past. It even gets harder when your handsome neighbor is a police officer who wants to get to know you. No matter how much Casey tries to avoid Thad, something is always pulling them together.
Thad has lived in Celebration Township his entire life, and it's not until a beautiful brunette moves in next door that his eye is finally caught. If only she didn't push him away at every chance she got.
When an unexpected visitor shows up at Casey's house a few days before Christmas, her future and past collide. Will Thad figure it out what's going on in time, or will Casey end up being a conspirator to a murderer? Read more…
Do you prefer paperbacks or ebooks? Do the feel-good and sweet or the hot hot and steamy romances pull you in? Are there any Christmas-themed romance novels that you're willing to share? Would love to hear your opinions in the comments!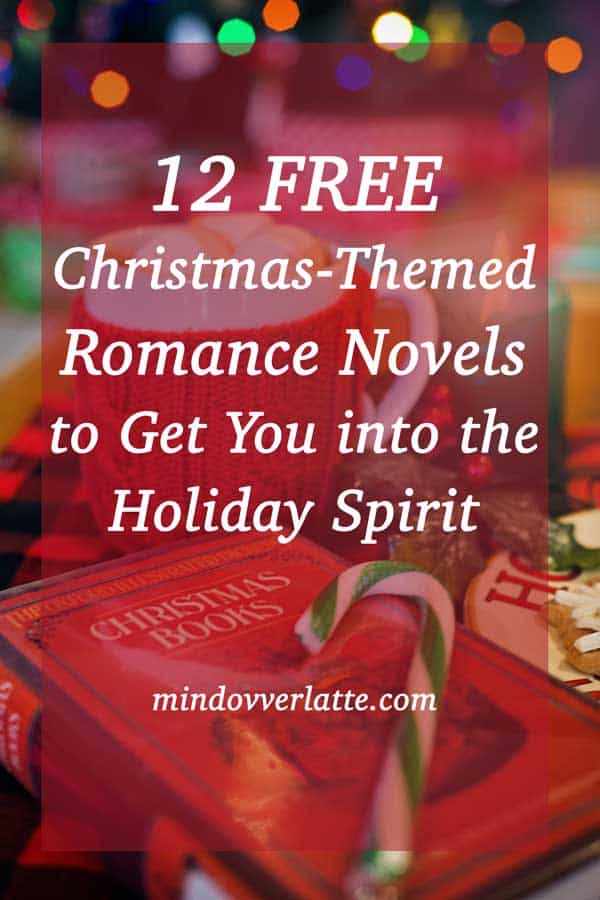 NOTE: The above-mentioned novels are free to download for Kindle on the date this post is published. The author of this post has no control over the length of time these books will be available for free on Amazon and takes no responsibility for providing free copies under any circumstances.