With June approaching and summer vacation lurking around the corner, all of us moms scramble to put together a "summer bucket list" of activities to keep our children occupied during the summer. But maybe instead of worrying so much about them, I should consider a few things I'd like to enjoy this summer as well…
Like many of you, I too, Google list upon list of summer activities for kids. However, my kids are not so little anymore. Now we are dealing with tweens, who don't really care about going to the park, playing with Play-Doh, or doing some of the other activities that used to be interesting and appealing.
Instead of me trying to come up with all the wonderful things we could do, I decided to use Judy Moody as an example and get my kids to create their own lists and entitled them 65 Days of Summer Bucket List. The kids wrote out 65 activities they would like to do this summer. Some were fun and free, some were simply outrageous and ludicrous. But hey, who am I to crush their dreams? If they think they can fly halfway around the globe for some Minecraft convention, then I hope they will take me along for the adventure.
But that got me thinking. We, Moms, spend so much time trying to figure out what to do with our kids and how to keep them occupied and engaged. How about us? Don't we deserve to have some fun during the summer as well? I know, it may sound selfish, but don't we need to recharge too? And the reality is, that we probably won't have time to do many of the things we truly wish we could do anyway. But that doesn't mean that we can't we have our own 65 Days of Summer Bucket List.
So I grabbed a piece of paper, joined my kids at the kitchen table, and made my own colourful list of things I would love to do this summer. Luckily, many of the fun things I would like to do align perfectly with the wish list of my kids. I'm so glad we all love eating ice cream and hanging out at the beach. But there are also a few little indulgences, that are simply my own.
And here is my very special 65 Days Summer Bucket List of wonderful things I would love to enjoy this summer:
Bake my favourite cheesecake, the one I never have time to do it because there are so many steps to make it.
Spend a day at the spa.
Try a new flavour of ice cream.
Beat my kids in Mario kart at least once.
Go for a walk in the woods, alone.
Go on a weekend road trip.
Read a book I've wanted to read for a long time and never had the time to do so.
Go to the beach.
Spend a day sunbathing in my own backyard.
Volunteer at the SPCA. Take some dogs for a nice long walk.
Go for a bike ride.
Go for a drive with the windows open and the radio blaring.
Sleep in.
Eat breakfast food for dinner.
Go camping.
Make Smore's over a campfire.
Play a tourist in my own town, and visit some of the landmarks that I have never seen.
Go to the movies.
Have a movie night at home.
Take my parents out to dinner.
Make a new dish that I've never done before.
Have a dance party in my living room.
Play the piano.
Try a new class at the gym.
Play a board game.
Visit three new coffee shops in my neighbourhood.
Have a girls night out with my friends.
Have a date night with my husband.
Go to a craft market.
Do one of the Nifty crafts I never have time to do.
Make a bouquet of wildflowers and bring them home to grace our kitchen table.
Go out for brunch to a restaurant.
Pull out my old photo albums and share with my children the stories from my childhood.
Go swimming at the pool.
Make my kids favourite dish.
Pay it forward at a drive-through window.
Buy something for me from my wish list.
Get a mother-daughter pedicure with my little girl.
Play soccer with my son.
Visit a nearby town I have never been to and spend the day exploring.
Send a handwritten letter to a friend who lives far away.
Catch up with an old friend over lunch.
Have a weekend overnight getaway with my husband.
Play in the puddles in the rain with my kids.
Make cupcakes with a lot of icing.
See a live musical at a theatre.
Play beach volleyball.
Do a kind deed for a neighbour.
At a restaurant, order a cocktail I've never had before.
Do something spontaneous and adventurous.
Try a new, healthy smoothly.
Play a practical joke on my brother or sister.
Indulge in overpriced, Swiss chocolate.
Have dinner on a restaurant patio.
Spend an evening at Chapters exploring new books to read.
Get ice cream at an ice cream truck.
Take my kids to volunteer at The Mission.
Spend a rainy morning reading in bed.
Go to a PaintNite with my daughter.
Reread my favourite book from my childhood.
Enjoy a take-out dinner (I don't remember last time we ordered take-out).
Attend a Hot Air Balloon show.
Find out when and where there is a fireworks show nearby and go watch them.
Go on a day shopping trip with my BFF.
Create a "picture a day" album for our 65 Days of Summer Bucket List.
I understand that some of these are things I can do year-round, but most of the time, summer is the time when we are more adventurous. So why not do some of them this summer.
Now is your turn, Moms! What is on your 65 Days of Summer Bucket List that I have not mentioned on mine?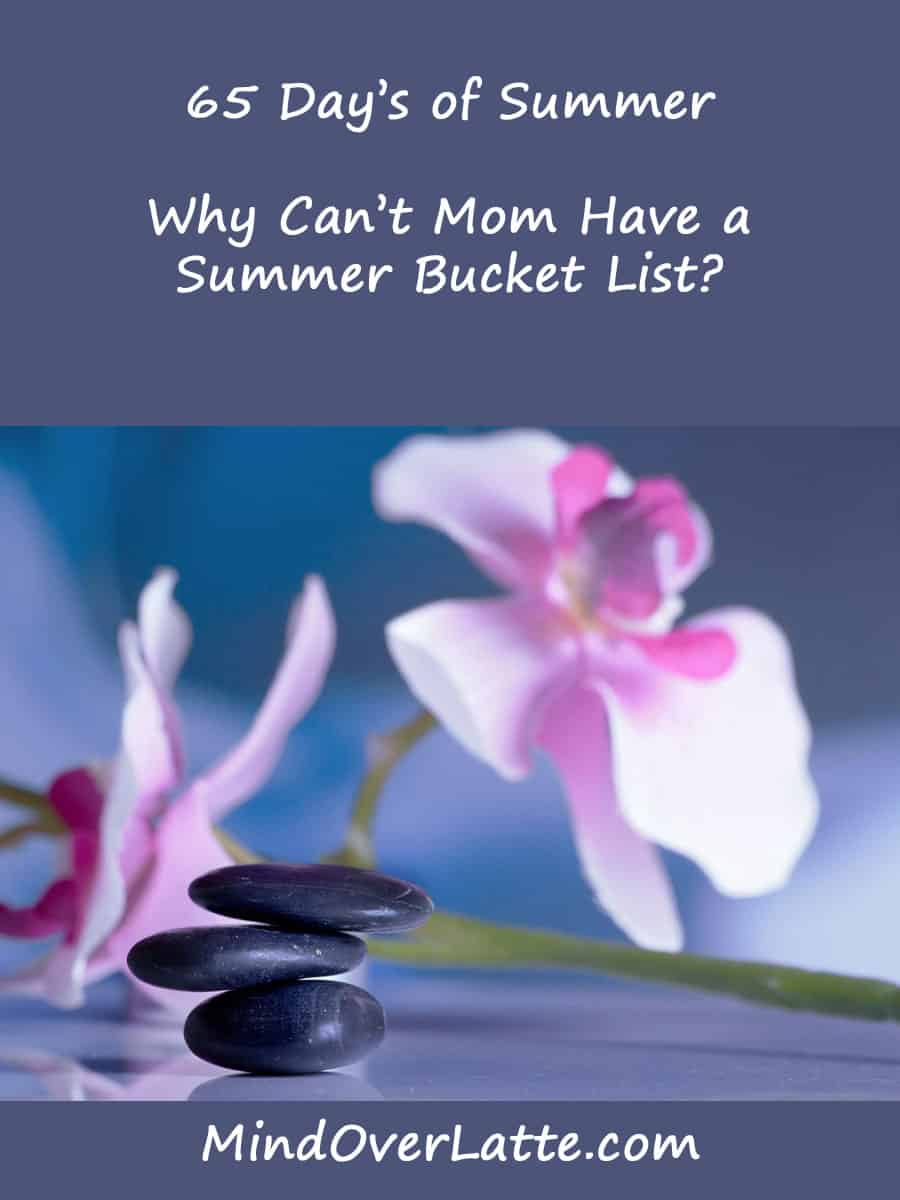 Stay Connected
Join our email list to receive the latest articles directly in your inbox.